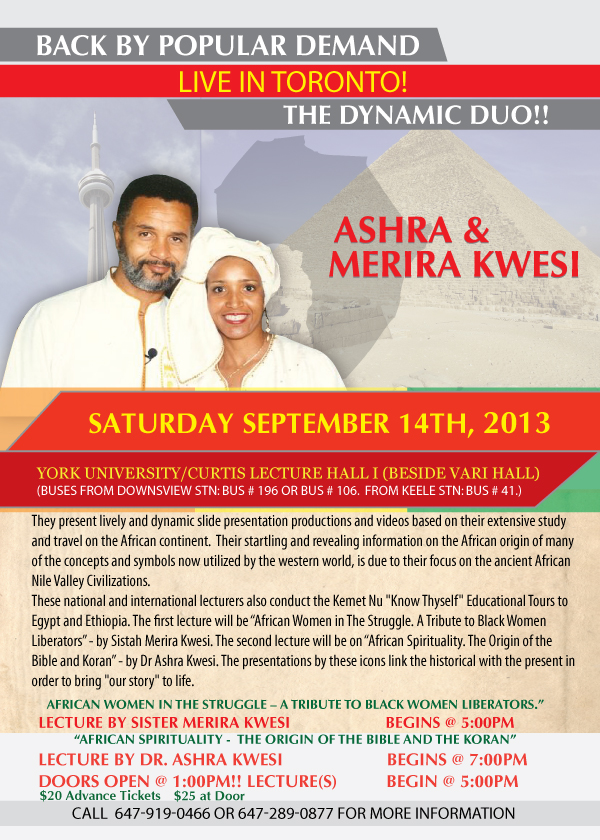 Back by popular demand, the dynamic duo of Dr Ashra Kwesi and Sistah Merira Kwesi, who are world renowned lecturers on African history, civilization, religion and culture, will be coming to York University on Saturday September 14th to present two lectures for our community here in Toronto.
They present lively and dynamic slide presentation productions and videos based on their extensive study and travel on the African continent. Their startling and revealing information on the African origin of many of the concepts and symbols now utilized by the western world, is due to their focus on the ancient African Nile Valley Civilizations.
These national and international lecturers also conduct the Kemet Nu "Know Thyself" Educational Tours to Egypt and Ethiopia. The first lecture will be "African Women in The Struggle. A Tribute to Black Women Liberators" – by Sistah Merira Kwesi. The second lecture will be on "African Spirituality. The Origin of the Bible and Koran" – by Dr Ashra Kwesi. The presentations by these icons link the historical with the present in order to bring "our story" to life.
As part of this historical event we will also be hosting the Cultural Business and Services Entrepreneurs Expo. Doors will open @ 1:00pm with a preview of the spectacular documentary "Mother Land!
The Cultural Business & Service Entrepreneurs Expose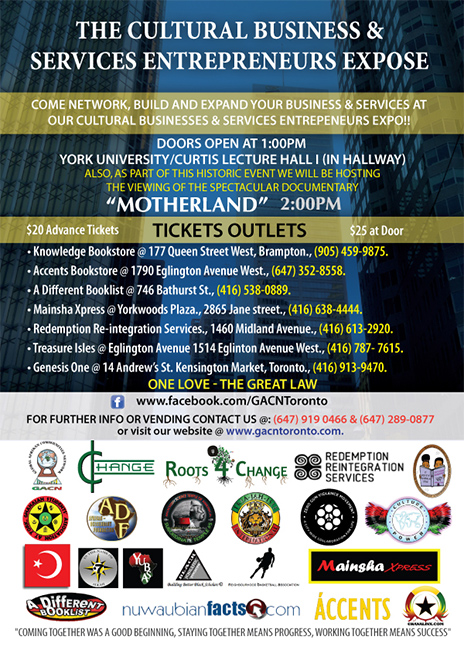 COME NETWORK, BUILD AND EXPAND YOUR BUSINESS & SERVICES AT OUR CULTURAL
BUSINESSES & SERVICES ENTREPENEURS EXPO!!
DOORS OPEN @ 1:00PM!
ALSO, AS PART OF THIS HISTORIC EVENT WE WILL BE HOSTING THE VIEWING OF THE
SPECTACULAR DOCUMENTARY – "MOTHERLAND".
"MOTHERLAND" DOCUMENTARY VIEWING IS @ 2:00PM (APPX. 2HRS.)