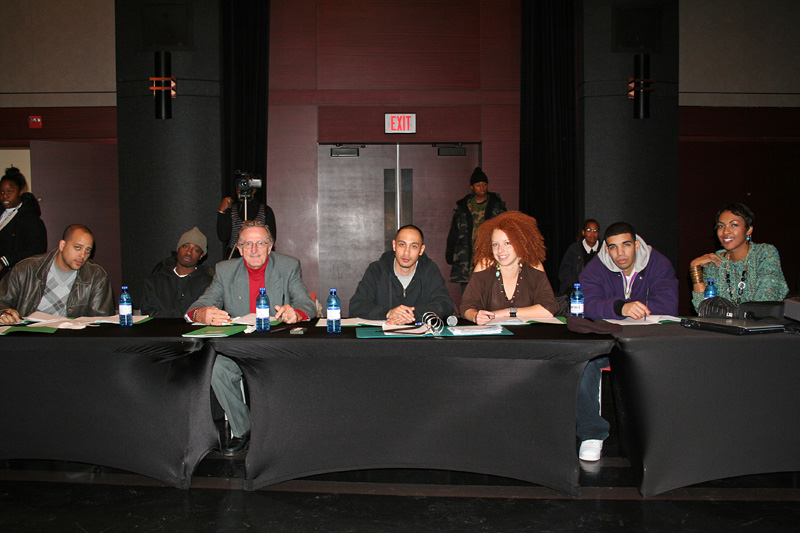 Change Promotions is proud to present to you the Shining Starz, The Provinces of Peels Third Annual Talent showcase which will be held inside one of GTA's most known Performance arts theatres; The Living Arts Center on Saturday January, 12th, 2008. This event is one of the many major events that will be held in the GTA region by Change Promotions, and is noticeably the one with the most growth potential.
The Shining Starz Showcase initially came about following our first annual See-Low 3 on 3 basketball tournament. While in the promotional phase of See-Low 3 on 3, a notice was put out that we were in search of any music or dance performers whom will be interested in performing at our half time show. We received an unexpected number of responses from people around the city interested in performing their talents; unfortunately for our tournament only 3 acts were required. Through the massive response, it was evident that the people living in our community are desperately interested in showcasing their talents and are in need of an opportunity, this is why the Shining Starz Growth potential is so MASSIVE and Change Promotions believes that it is our obligation to provide this opportunity for our people to perform in front of a mass audience. But we do not want to stop there, although many of the participants who audition for our showcase know what there interest is (dancing, singing, comedy etc…), they are thriving to pursue their dreams of "making it", but many of them do not have the direction of what needs to be done to achieve this. Change Promotions wants to provide every act whom auditions for our showcase guidance for them to reach the next level; whether it is an act that auditioned, but does not make it to the showcase; an act that makes the showcase, but does not win it; as well as the act that does win the showcase, but is not aware of the next step needed to future reach their ultimate goal, we will help them. We gain this information by seeking it through representatives, and other talented people who are more established in the entertainment industry.
The Shining Starz Talent Showcase will consist of a total of the top *20* talented acts who will be selected by our industry judges through the auditions process. This event is open to all genres of music and dance as well as any other talent act that is entertaining, our expectations is to have over 400 auditions. Performances will consist of anything from one person to a group of people. Along with the participants, there will be many spectators at this is an event, which is guaranteed to sell out to capacity! This is over 1,500 People. The Event will start at 6pm and will run until 10pm. High intensity Performances will be showcased throughout the duration of the event. Along side the Talent Showcase there will be a Fashion Show in progress during intermissions, which will showcase the clothing brands from the up and coming local designers from our region, who wish to display there apparel to those in attendance as well as the 3rd annual "Battle King" freestyle competition and Dj mixing Contest. This is another way to keep all entertained and interested while providing opportunity for the designers. Throughout the Shining Starz Showcase there will be event co-host MC's (one male and female), along with a DJ playing billboards top 100 songs in between acts to ensure the majority of our crowd will enjoy the music that is being played. Also we will be giving out prize packs, giveaways, doing raffles as well as various types of competitions and crowd involving activities for the audience to gain recognition of our Event sponsors in an enjoyable manner. Near the Final Segment of the Showcase we there will be motivational guest speakers to uplift and empower the participants and audience members. There will be a 1st, 2nd and 3rd place-winner for the Shining Starz talent showcase who will receive a Trophy, prize pack from our sponsors, and a Cash prize with 1st place to be $1,000!
Community Involvement
Venue
The Living Arts Center is conveniently located in heart of Mississauga; on Living Arts Drive; north east of Burnhamthorpe Rd. and Hurontario St, The Living Arts Center is located in the most notable places in Mississauga, neighbouring the Square One shopping mall and Mississauga city hall civic center; and is ideally situated near Highway 403, QEW, and 401; ensuring easy accessibility for those driving, as well as taking public transportation.. With the Theatrical Atmosphere, the Living Arts Center will definitely exceed all expectations on each and every performance with quality sound and lighting.
The Living Arts Centre has quickly become the home of arts and culture, and arts educational experiences within the greater Mississauga region. The Living Arts Centre now welcomes over 300,000 visitors annually to performing and visual arts programs, corporate meetings/conventions, and a wide variety of community events. The Living Arts Centre houses magnificent performance theatres, an exhibition gallery, eight professional art studios and sophisticated corporate meeting facilities.
The state-of-the-art Living Arts Center is a high-technology facility boasting a 1315-seat theatre (Hammerson Hall), a 382-seat secondary hall and community space for meetings.
The Living Arts Center is dedicated to presenting quality entertainment to the Regions diverse audience, providing the local community with a venue for excellence in the performing arts.
Designed to accommodate a main theatre and secondary space that can be used simultaneously, accommodating up to 1,700 people
The main space consists of 225,000 square feet
Multi-purpose, two-level atrium lobby
One of the only broadcast ready venues in the GTA, the theatre has been pre-wired for TV and Video broadcast
Complimentary, heated underground parking for 600 cars is also available for winter convenience, located directly underneath the theatre
Stage includes a full fly tower allowing props and backdrops to be 'flown' on and off the stage
The horseshoe shaped house (the 3 level; 1315-seat theatre) creates an intimate space with the farthest seat just 60 feet from the stage
Mississauga's main bus terminal is situated at Square One shopping mall; adjacent to the Theatre
Participants
The Fallen (Rock Band performance)
Crazy Ghost  (Hip-Hop)
The Wayans Bros [label style="imp"]Runner Up[/label] (Dance duo)
X-Limit (Extreme Martial Arts)
Sho'Off (Dance Solo)
Verona [label style="imp"]Runner Up[/label](Rock Band)
T.Ana Cole (R&B Singer)
Back2Basics (Dance Group)
Soul Fistikato (Spoken Word)
Focus (Rap Artist)
Dynamyt Records (Reggaeton)
Johnny Twilight (Rock Band)
Kid Banga (Rap Performance)
Notorious [label style="warning"]Winner[/label] (Dance Group)
Jordan Clarke (Actor)
J Robb (Rap Artist)
Petra (R&B Singer)
Gully Klassics (Fashion Show)
Photos
Media
[media url="http://www.youtube.com/watch?v=YtCk1LOjMws"]
[media url="http://www.youtube.com/watch?v=xIWtWUSjLw4″]