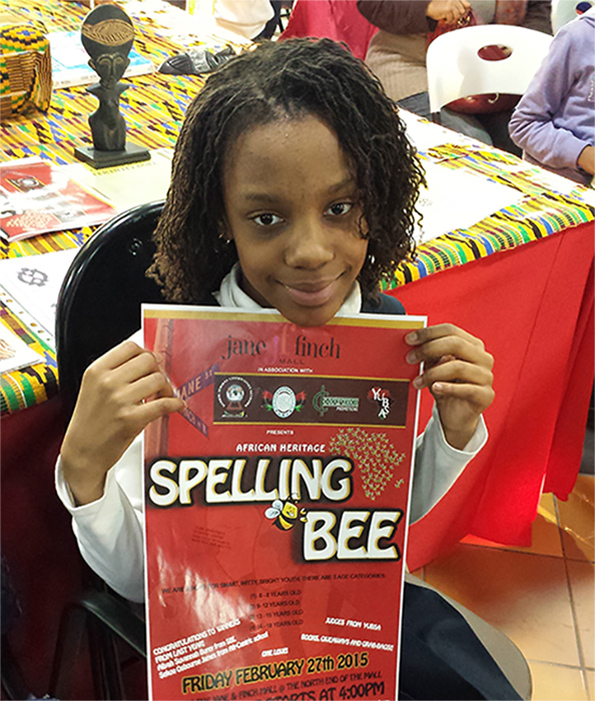 JANE & FINCH MALL IN ASSOCIATION WITH THE G.A.C.N./CULTURE POWER/ CHANGE PROMOTIONS/YUBSA & THE BLACK STONE LIBRARY PRESENTS THE SECOND ANNUAL AFRIKAN HERITAGE SPELLING BEE!!
YES FAMILY! IT'S HERE AGAIN! THE G.A.C.N. IN ASSOCIATION WITH CULTURE POWER / CHANGE PROMOTIONS / YUBSA & THE BLACK STONE LIBRARY IS PROUD TO BRING YOU ONCE AGAIN, BACK BY POPULAR DEMAND, OUR SECOND ANNUAL AFRIKAN HERITAGE SPELLING BEE!!
WHEN: FRIDAY, FEBRUARY 27TH, @ 4:00PM
WHERE: INSIDE THE JANE & FINCH MALL
WHO: CALLING ALL SMART, WITTY, BRAVE, BRIGHT YOUTH AGES:
1ST CATEGORY: AGES 12 YEARS & UNDER
2ND CATEGORY: AGES 13 – 15 YEARS OLD
3RD CATEGORY: AGES 16 – 18 YEARS OLD
WHY: TO PROMOTE AND ENCOURAGE THE YOUTH THE PARTICIPATE, LEARN, SUCCEED AND THRIVE IN ACTIVITIES WHICH MAY BE CHALLENGING BUT ESSENTIAL TO A GOOD, COMPLETE, WELL-ROUNDED EDUCATIONAL CANVAS, WITH WHICH TO FACE THE WORLD. WE AIM AT FOSTERING GOOD SPORTSMANSHIP AND EXCELLENCE… ALL WHILE HAVING FUN!
HOW: ALL SCHOOLS AND OR COMMUNITY YOUTH ORGANIZATIONS, CLUBS, ETC. PLEASE SUBMIT TWO CANDIDATES FROM EACH AGE GROUP STATED ABOVE!TO ENROLL YOUR YOUTH, PLEASE CONTACT US AT: culture.power@hotmail.com or telephone us at: (647) 919 0466, (647) 533-1416. PLEASE PROVIDE THE NAME AND AGE OF THE YOUTH AND WE WILL HAVE THEM REGISTERED FOR THE SPELL-OFF! PLEASE FIND ATTACHED A DATA-BASE LIST OF ALL THE WORDS THAT COULD POTENTIALLY BE IN THE CONTEST. PLEASE INFORM YOUR CANDIDATES TO STUDY ALL THE WORDS THOROUGHLY AS THE CHOICES FOR THE SPELL-OFF WILL BE RANDOM. WE LOOK FORWARD TO SEEING YOU ONCE AGAIN FOR ANOTHER SUCCESSFUL, EXCITING EDITION OF OUR POPULAR SPELLING BEE!
THE WORDS TO STUDY ARE AS FOLLOWS:
1. EMANCIPATION
2. MELANIN
3. IMHOTEP
4. LIBERATION
5. RECIPROCITY**
6. DESTINY
7. SOJOURNER TRUTH
8. HARRIET TUBMAN
9. MOHAMMAD ALI
10. BUDDHA
11. HERO
12. SHAKA ZULU
13. QUEENS
14. ALLAH
15. UNITY
16. JUDAH
17. PEACE
18. TRUST
19. ANCESTORS
20. REBELLION
21. EGYPT
22. PHAROAH
23. NUBIA
24. PYRAMIDS
25. NILE
26. TROPICAL
27. ROYAL
28. KEMET
29. REVOLUTION
30. FAITH
31. DEITY
32. EMPRESS
33. MOORE
34. DESCEND
35. ANCIENT
36. ETHIOPIAN
37. ZIMBABWE
38. JAMAICA
39. MALI
40. AFRICA
41. MARCUS GARVEY
42. LEGACY
43. HISTORY
44. COURAGE
45. MAROON
46. ALKEBULAN
47. ZION
48. HARVEST
49. CULTIVATE
50. SAHARA
51. DOGON
52. MINERALS
53. CIVILIZATION
54. EVOLVE
55. KUSH
56. INHERIT
57. CLAN
58. BARTER
59. WOMB**
60. DRUMS
61. KINGS
62. ELDERS
63. PURPOSE
64. FAMILY
65. DEFEAT
66. CIVIL RIGHTS
67. MARTIN LUTHER KING
68. SIERRA LEONE
69. SOMALIA
70. RELIGION
71. SANKOFA
72. FEMININE
73. MASCULINE
74. ISIS
75. ASET
76. HORUS
77. CLARENDON
78. MOGADISHU***
79. ADDIS ABABA**
80. M0ROCCO
81. LIBYA
82. BOTSWANA
83. TRIPOLI
84. MOZAMBIQUE***
85. GUINEA***
86. BENIN
87. NAIROBI**
88. TRINIDAD
89. NAMIBIA
90. CAMEROON
91. DJIBOUTI***
92. MOMBASA
93. BELIZE**
94. HAITI
95. MORALITY
96. CONSCIENCE**
97. DISCIPLINE
98. HONOUR
99. DIGNITY
100. APOLOGY
1. CHILD – SENTENCE: (I AM A CHILD OF GOD.)
2. EARN – SENTENCE: (YOU MUST WORK HARD TO EARN YOUR PAY.)
3. TRUTH – SENTENCE: (IT IS IMPORTANT TO ALWAYS SPEAK THE TRUTH.)
4. LOVE – SENTENCE: (I LOVE TO EAT FRESH FRUITS.)
5. HATE – SENTENCE: (MANY PEOPLE TODAY ARE DRIVEN BY HATE.)
6. ANGRY – SENTENCE: (STEPPING ON A DOGS TAIL WILL MAKE HIM ANGRY.)
7. BROTHER – SENTENCE: (MY BROTHER IS OLDER THAN ME.)
8. SISTER – SENTENCE: (MY SISTERIS ON THE GIRL'S BASKETBALL TEAM.)
9. MOTHER – SENTENCE: (MY MOTHER READS ME A BED-TIME STORY EVERYNIGHT.)
10. WIFE – SENTENCE: (PRESDIENT OBAMA HAS A BEAUTIFUL WIFE NAMED MICHELLE.)
11. HOLY – SENTENCE: (MY GRANDMOTHER LOVES TO READ THE HOLY BIBLE.)
12. SCHOOL – SENTENCE: (IT IS GOOD TO GET UP EARLY SO YOU CAN BE AT SCHOOL ON TIME.)
13. CHURCH – SENTENCE: (SOMETIMES I GO TO CHURCH ON SUNDAYS WITH GRANDMA.)
14. GROUND – SENTENCE: (THE FARMER PLANTS SEEDS IN THE GROUND.)
15. ROBE- SENTENCE: (AFTER HER SHOWER, MOTHER LIKES TO PUT ON HER AFRICAN ROBE.)
16. WORK- SENTENCE: (DADDY TAKES US TO SCHOOL BEFORE HE GOES TO WORK IN THE MORNINGS.)
17. DANCE – SENTENCE: (I LIKE TO DANCE WITH MY BABY SISTER. )
18. SING – SENTENCE: (WE SINGTHE BLACK ANTHEM, "LIFT EVERY VOICE" AT KWAANZA.)
19. CHOIR- SENTENCE: (GRANDMA WEARS A COLOURFUL ROBE WHEN SHE SINGS WITH THE CHOIR.)
20. GREET – SENTENCE: (WE GREET THE ELDERS BEFORE THE CEREMONY BEGINS.)
21. STORY- SENTENCE: (OUR TEACHER TOLD THE STORY ABOUT HARRIOT TUBMAN.)
22. RULES – SENTENCE: (EVERY SCHOOL HAS RULES AND REGULATIONS.)
23. KEY- SENTENCE: (TO OPEN THE DOOR YOU MUST HAVE A KEY.)
24. PEOPLE – SENTENCE: (THERE WERE OVER TWO HUNDRED PEOPLE ON THE BOAT.)
25. NAME- SENTENCE: (TO REGISTER FOR SCHOOL WE NEEDED TO GIVE OUR NAME.)
26. TRADE – SENTENCE: (AT SCHOOL, I OFTEN TRADE LUNCHES WITH MY BEST FRIEND.)
27. SUN – SENTENCE: (WHEN THE SUN COMES UP I FEEL ENERGETIC.)
28. PAST – SENTENCE: (I'VE BEEN TO WONDERLAND MANY TIMES IN THE PAST.)
29. HUMANS – SENTENCE: (ALL HUMANS NEED LOVE TO GROW.)
30. EARLY – SENTENCE: ((IT IS GOOD TO GET UP EARLY SO YOU CAN BE AT SCHOOL ON TIME.)
31. EASY – SENTENCE: (MY BROTHER SAID IT IS EASY TO RIDE A BIKE.)
32. POEM – SENTENCE: (DADDY WROTE A BEAUTIFUL POEM FOR MOMMY ON HER BIRTHDAY.)
33. FREE – SENTENCE: (WE GOT TO SEE THE SHOW FOR FREE.)
34. NORTH- SENTENCE: (DURING SLAVERY, SLAVES ESCAPED TO THE NORTH THROUGH THE UNDERGROUND RAILROAD.)
35. WEST- SENTENCE: ( I LIVE IN THE WEST END OF THE CITY.)
36. EAST- SENTENCE: (THE OPPOSITE OF WEST IS EAST.)
37. SOUTH – SENTENCE: (NELSON MANDELA FOUGHT FOR FREEDOM FOR THE PEOPLE IN SOUTHAFRICA.)
38. SINGLE – SENTENCE: (I HAVE ONE SINGLE PAGE OF MY BOOK LEFT TO READ. )
39. ARK – SENTENCE: (ACCORDING TO THE BIBLE, NOAH BUILT AN ARK TO SHELTER TWO OF EVERY KIND OF ANIMAL.)
40. CLASS – SENTENCE: (THE TEACHER'S FACE WAS SERIOUS WHEN SHE SAID: DON'T BE LATE FOR CLASS!)
41. FEBRUARY- SENTENCE: (THE SHORTEST MONTH OF THE YEAR IS FEBRUARY.)
42. BIBLE – SENTENCE: (GRANDMA READS HER BIBLE AND PRAYS BEFORE BED.)
Community Involvement
Venue
Jane Finch Mall is located at the south-east corner of Jane Street and Finch Avenue, easily accessible from highway 400 and by public transit. With over 75 shops and services, including a brand new 44,000 sq. ft. FreshCo grocery, Shoppers Drug Mart, CIBC Bank and McDonald's, we have everything for your shopping needs with lots of free parking.
Participants
Aliyah Suvannah Burey – Grade 12
Sekou Osbourne – Grade 7
Photos
Media
Coming Soon!