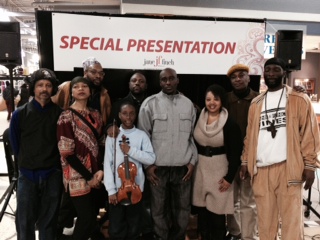 The G.A.C.N. ( Global African Communities Network ) Change Promotion and Culture Power would like to thank the Jane Finch Mall, it's security staff and management in regards to hosting this years African Heritage Month display and events. The display attracted people from all walks of life and most importantly, people from all ethnicities. Community members really appreciated the indepth view of history that is sometimes not covered in the main stream Black History events. This year's first ever African Heritage Spelling B event was an overwhelming success. Parents, teachers and school administrators were very happy to see an event like this take place in the Jane Finch community and expressed the need to have more events like this in the future and encouraged us to continue having events such as this, that focus more on academics. The winners for this year's Spelling B competition were Aliyah Suvannah Burey a grade 12 student from Westview Centennial Secondary school and Sekou Osbourne a grade 7 student from the Afrocentric school.
JANE & FINCH MALL
IN ASSOCIATION WITH
THE G.A.C.N./CULTURE POWER/CHANGE PROMOTIONS INC.
PRESENTS THE FIRST EVER
AFRICAN HERITAGE SPELLING 'B'!!
CULTURE POWER IN ASSOCIATION WITH THE G.A.C.N. (GLOBAL AFRICAN COMMUNITIES NETWORK), CHANGE
PROMOTIONS INC. AND THE JANE AND FINCH MALL PRESENTS IT FIRST EVER AFRICAN HERITAGE SPELLING 'B'!!
WHEN: FEBRUARY 28th. THE CONTEST STARTS AT 4:00PM. THERE WILL BE A CASH PRIZE FOR THE WINNERS!
BOOKS, GIVEAWAYS AND GRAB-BAGS!!
WHERE: INSIDE THE JANE & FINCH MALL (@ THE NORTH END OF THE MALL.)
WHO: WE ARE ASKING FOR SMART, WITTY, BRIGHT YOUTH. THERE ARE 3 AGE CATEGORIES:
(1) 10 – 12 YEARS OLD
(2) 13 – 15 YEARS OLD
(3) 16 – 18 YEARS OLD
HOW: ALL SCHOOLS &/OR COMMUNITY YOUTH ORGANIZATIONS ETC. PLEASE SELECT AND SUBMIT TWO
PARTICIPANTS FROM YOUR; ORGANIZATION – 1 GIRL AND 1 BOY (IF POSSIBLE) TO PERFORM IN EACH OF THE
ABOVE LISTED CATEGORIES!
THE WORDS ARE:
1. EMANCIPATE 31. SOJOURNER TRUTH 61. QUEENS
2. MELANIN 32. HARRIET TUBMAN 62. ALLAH
3. IMHOTEP 33. MOHAMMAD ALI 63. UNITY
4. LIBERATION 34. BUDDHA 65. JUDAH
5. RECIPROCITY 35. HERO 66. PEACE
6. DESTINY 36. SHAKA ZULU 67. TRUST
7. ANCESTORS 37. LEGACY 68. ELDERS
8. REBELLION 38. HISTORY 69. PURPOSE
9. EGYPT 39. COURAGE 70. FAMILY

10. PHARAOH 40. MAROON
11. NUBIA 41. ALKEBULAN
12. PYRAMIDS 42. ZION
13. NILE 43. HARVEST
14. TROPICAL 44. CULTIVATE
15. ROYAL 45. MERCHANTS
16. KEMET 46. CULTURE
17. REVOLUTION 47. SAHARA
18. FAITH 48. DOGON
19. DEITY 49. MINERALS
20. EMPRESS 50. TEMPLE
21. MOORE 51. CROPS

22. DESCEND 52. CIVILIZE
23. ANCIENT 53. EVOLVE
24. ETHIOPIAN 54. KUSH
25. ZIMBABWE 55. INHERIT
26. JAMAICA 56. CLAN
27. GHANA 57. BARTER
28. MALI 58. WOMB
29. AFRICA 59. DRUMS
30. MARCUS GARVEY 60. KINGS


SPELLING BEE CONTEST RULES
HERE ARE THE RULES FOR THE CONTEST:
(ALL CONTESTANTS WILL BE GIVEN THE WORDS, 70 WORDS EXACTLY, WITH WHICH TO
PREPARE.
CONTESTANTS MUST STUDY ALL 70 WORDS. BE PREPARED TO SPELL EVERY WORD.
THE SPELLING BEE WORDS WILL BE ASKED AT RANDOM SO BE READY!)
1. EACH CONTESTANT MUST SPELL ALL WORDS ASKED CORRECTLY TO MOVE ON.
2. EACH CONTESTANT IS ALLOWED TO REQUEST 3 THINGS FROM THE CONDUCTOR:
(1) MAY I HAVE THE DEFINITION OF THE WORD?
(2) MAY I HEAR THE WORD USED IN A SENTENCE?
(3) WHAT PART OF SPEECH IT IS? IS IT A VERB? A NOUN? OR AN ADJECTIVE?
3. IF A CONTESTANT MISPELLS 3 WORDS THEY WILL AUTOMATICALLY BE DISQUALIFIED.
4. A CONTESTANT MAY ASK TO REPEAT THE WORD TWICE, IF THEY DID NOT HEAR A WORD
CLEARLY.
TO SUBMIT YOUR STUDENT/YOUTH CONTESTANTS PLEASE CONTACT US AT: (647) 919 – 0466
OR (647) – 533 – 1416. YOU CAN E-MAIL US AT: culture.power@hotmail.com TO REGISTER!!
NOTE: SUBMISSION DEADLINE: WEDNESDAY FEBRUARY 26TH!! STUDENTS, BE ADVISED, WHILE STUDYING THE WORDS, FEEL FREE TO LOOK THEM UP IN A DICTIONARY OR GOOGLE THEM. THIS WILL HELP YOU IN UNDERSTANDING THE WORD BETTER. GOOD LUCK!!
SEE YOU AT THE SPELLING BEE!!!
Community Involvement
Venue
Jane Finch Mall is located at the south-east corner of Jane Street and Finch Avenue, easily accessible from highway 400 and by public transit. With over 75 shops and services, including a brand new 44,000 sq. ft. FreshCo grocery, Shoppers Drug Mart, CIBC Bank and McDonald's, we have everything for your shopping needs with lots of free parking.
Participants
Aliyah Suvannah Burey – Grade 12
Sekou Osbourne – Grade 7
Photos
Media
Coming Soon!