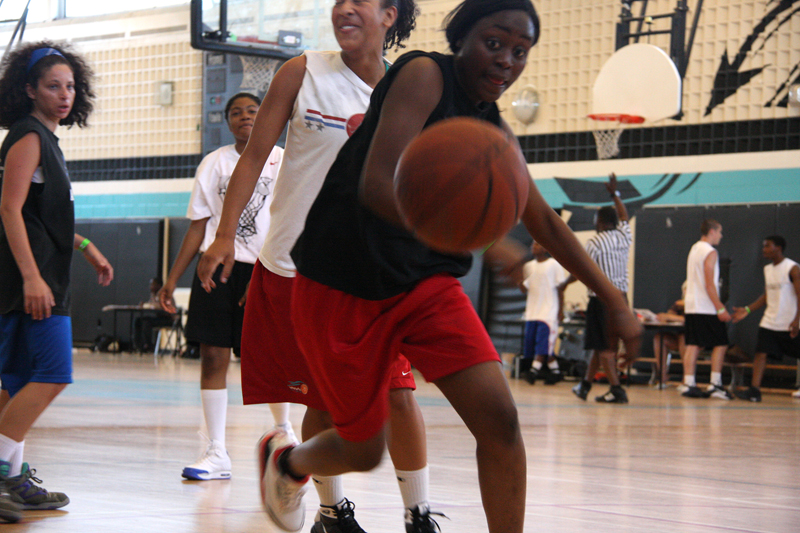 Change Promotions is once again proud to present See-Low 3on3; GTA's most competitive indoor 3 on 3 basketball tournament, which will be held on Saturday June 27th, 2009 at Fletchers Meadows Secondary School, Brampton. This will be another one of the many major events that will be held in our Region by Change Promotions Inc. This years tournament will consist of 48 teams in 6 divisions (Male and Female; 8-junior, 8-senior and 8-Adult level teams). Each team can consist of a minimum of three(3) players and a maximum of five(5) players, which is over 96 players (Due to the high-demand of team registration, Registrations will be accepted on a *First Come-First Serve* basis). Along with the players, there will be many spectators at this event, which will be a free event to any spectators who attend. The tournament will start from morning, and will run until late evening. High intensity level games will be in progress throughout the day. Each Team will be guaranteed a minimum of 3 games. There will be 6 games in progress at a time so viewers can choose which game to watch and feel is the most exciting. Along side the tournament there will be many other events and contests occurring to keep all entertained including Multicultural Performances and an opportunity to "Taste the World" in celebration of Canadian Multicultural Day. There will also be a Skills competition and ***"HANG TIME" (Dunking Competition)***. A Press release will be sent out for The See-Low 3on3 for coverage from local media including Rogers Television (Cable 10). During the tournament there will be a live MC along with a DJ playing billboards top 200 songs to ensure the majority of our crowd will enjoy the music that is being played. Live Music and Dance performances by GTA's Shining Starz™.. There will also be many Crowd Giveaways, Guest Speakers, raffles as well as various types of competitions for the audience to gain recognition of our tournament sponsors in an enjoyable manner. There will be a 1st place-winning team in each division for the tournament, as well as a tournament MVP. The winners of the tournament will each receive an Award, A Championship T-shirt, prize packs by our tournament sponsors, free team entry for See-Low 3 on 3, 2010 , Free Entry into this years "NBA 3on3 Ballers Unite" (Hoop-it-up) and a Ca$h Prize!
Community Involvement
Venue
Fletchers Meadows S.S is conveniently situated at 10750 Chinguacousy Road, Brampton, ON (North of Sandalwood Pkwy and the Cassie Campbell recreation centre); and is ideally situated near Highway 410;ensuring easy accessibility for those driving, as well as those taking public transportation.
Parking: Over 1000+ parking spaces on site.
Public Transit: Brampton Transit Bus (#4) Stop is located right in front of venue.
Attendance:  500+ seats
Participants
Mix of Divisions

| | | | |
| --- | --- | --- | --- |
| Triple Balance | Age | Height | Weight |
| Rami Arabi | 19 | 5'6 | 140 |
| Shane James | 24 | 6'3 | 190 |
| Jemino Sobers | 25 | 6'7 | 250 |
| Eugene Kotoobure | 26 | 6'5 | 220 |

| | | | |
| --- | --- | --- | --- |
| Welfere | Age | Height | Weight |
| Freddy Appiah | 18 | 6'7 | 170 |
| Daniel Fergoson | 23 | 6'4 | 200 |
| Peter Ashaola | 21 | 6'5 | 220 |
| | | | |

| | | | |
| --- | --- | --- | --- |
| Team Canada | Age | Height | Weight |
| Paul Blake | 23 | 6'5 | |
| David Rodney | 22 | 6'1 | 175 |
| Sherone Edwards | 18 | 6'4 | 200 |

| | | | |
| --- | --- | --- | --- |
| Focus | Age | Height | Weight |
| Fulleasha Thompson | 17 | 5'6 | 143 |
| Dainique Campbell | 16 | 5'5 | 143 |
| Abena Addo | 17 | 5'8 | 150 |

| | | | |
| --- | --- | --- | --- |
| Goonies | Age | Height | Weight |
| Bosh | 18 | 6'4 | 160 |
| Gin | 19 | 5'11 | 160 |
| Jordan Allen | 17 | 5'10 | 197 |

| | | | |
| --- | --- | --- | --- |
| Triangle | Age | Height | Weight |
| Brandon Ennis | 19 | 6'4 | 180 |
| Ante Cosic | 18 | 6'7 | 185 |
| Kareem Malcolm | 18 | 5'11 | 175 |
| Josh Williams | 18 | 6'3 | 200 |
| Kereem Malcolm Kennedy | 20 | 6'0 | 185 |

| | | | |
| --- | --- | --- | --- |
| Team Roc | Age | Height | Weight |
| Dylan Ennis | 17 | 6'0 | 155 |
| Jabs Newby | 17 | 6'2 | 170 |
| Byron Trench | 19 | 6'7 | 190 |
Photos
[nggallery id=30]

Media